Easter is a very special time in the Cayman Islands. The holiday centers on religious events; both Good Friday and Easter Sunday, and there is plenty of Easter-themed entertainment to keep the whole family entertained. Easter is a festival celebrated to commemorate the resurrection of Jesus Christ. It is a time that often evokes fond memories of family gatherings, Easter egg hunts, and in many cases – the first sign that Spring is here!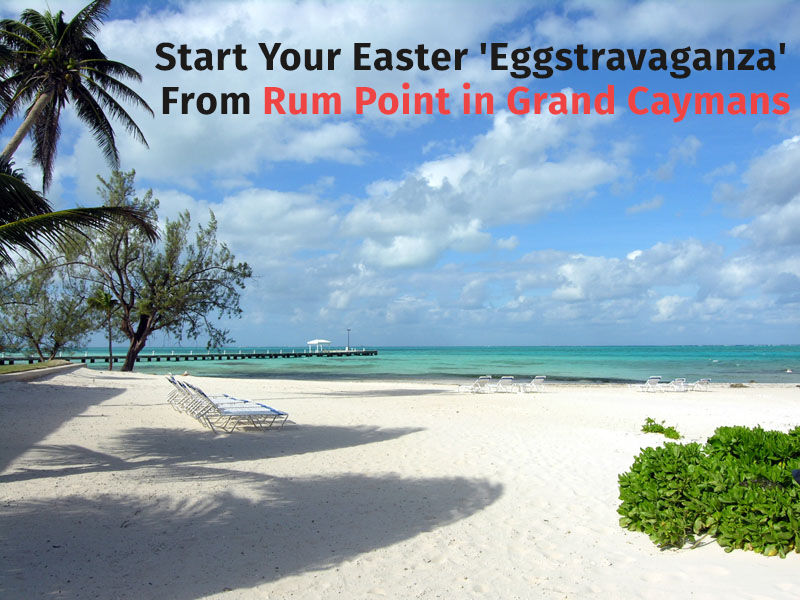 In the Cayman Islands, you can experience 'post-snow' relief by coming here to spend your easter holidays in the Cayman Islands. During this holiday, the tradition of spending time together with family are of great importance.
If you are looking to spend a fun-filled day while on vacation, take a trip to the one and only Rum Point in Grand Caymans, home of the world-famous Wreck Bar. Once at Rum Point, you will find a small quiet beach with plenty of options for an enjoyable family day. The crystal clear waters offer a great opportunity to try your luck at the world famous Coral Gardens snorkeling site.
Below are enlisted a few special events which are popular amongst the locals as well as tourists during the spring time:
•CAMPING AROUND RUM POINT – On Grand Cayman, you will find locals camping along Queen's Highway in East End, around Rum Point, Cayman Kai, and of course, on Seven Mile Beach. Every year hundreds and thousands of locals and savvy travelers camp on the beaches located all over the Cayman Islands to celebrate the holidays. They see it as a great opportunity for families and friends to spend a joyous time while enjoying the natural beauty of the surroundings. Residents take a break from their busy lifestyle and enjoy the beautiful outdoor living in the Caymans that visitors come to see every year.
•SNORKEL & SCUBA DIVE AT CORAL GARDENS – Snorkeling in Coral Gardens is considered one of the best activities to be part of in the Cayman Islands. The waters are protected by a large reef about one mile from shore. The White House Reef Snorkel Trail is probably one of the most frequently visited sights on this island visited by tourists. On your diving adventure, you will probably encounter many species of tropical and coral fish, humpback whales, sea turtles, octopus, crabs, huge lobsters, dolphins, stingrays, eels and manta rays. Whatever your preference, the possibilities for adventure and pleasure are endless.
•PARTICIPATE IN THE ANNUAL CATBOAT REGATTA – The Annual Catboat Regatta Action will take place in the Cayman Islands during the month of May. The regatta will feature 18 international youth Opti Sailors from Cayman, Turks and Caicos and Canada competing for trophies and prizes. The public can see the Cayman Islands catboats in action. They can also take a ride and try a pico sailboat too. There will be a barbecue, unlimited entertainment for the kids, and a bouncy castle.
•JET SKIING AND BOATING – Whether you opt to go in it, under it, or just sit above it, there's something about the turquoise waters, white sand, and refreshing breezes which keep the visitors coming back for more to the Cayman Kai Islands. There's no end to the number of adventurous activities you can see and do, ranging from the thrill of going underwater without getting wet to the fun of diving, snorkeling, swimming, sailing, fishing or just basking lazily in the sun.
•KAIBO KITEFEST IN GRAND CAYMAN – Kaibo Kite Fest is a public holiday that takes place every spring. This day of beach fun is a perfect activity that the whole family will love and admire! Be a part of the Caribbean tradition and head down to Kaibo for the day! And don't worry about packing a kite; they're sold on the spot just in case you don't have your own (and make for a memorable souvenir). Once equipped, you can either fly solo or enter the kite flying competition for a small fee. If kites aren't for you, there are plenty of other activities taking place from kitesurfing to live music, so you're sure to stay entertained!
Make this year's easter celebration unique by visiting Rum Point in the Grand Caymans and participate in the extravagant activities such as camping along the beach, snorkeling in Coral Gardens, flying a kite at kaibo kite fest and many others with friends and or family. Make your Easter celebration a memorable one by starting your Easter 'Eggstravaganza' from Rum Point in the Grand Caymans.