Cayman Boat Charter/Rental | Cayman Private Yacht Charter/Rental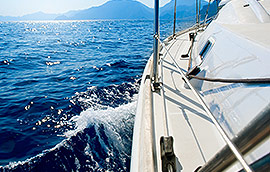 About Yacht Boat Charter Rental Cayman
Welcome to Yachts Cayman! We are the Yacht Boat Charter Rental Expert Cayman specializing in all luxury yachting activities in Cayman. At Yachts Caymans, we all share a genuine passion and love for the sea, and strongly believe that a luxury Cayman Boat Charter/Rental is the best way to truly see and experience the tropical island paradise of the Cayman Islands. Whether you want to sail the crystal clear waters of the Cayman, snorkel coral reefs teeming with marine life, have a romantic dinner cruise with your special someone, or enjoy a day or evening cruise with your family on board your own Cayman Private Yacht Charter, we offer the best options in Yacht Charter Rental Cayman at the best value, tailored to just what you want.
Cayman Boat Rental Charter
Travel in style, and go wherever the winds take you onboard your own Private Yacht Charter Cayman. Our high-quality yachts are truly a five-star floating luxury resort with sophisticated & luxurious interiors and all the modern amenities & water sports equipment combined together with our unmatched customer service to provide each and every guest with an unforgettable experience. You can choose from our large selection of luxury Cayman Boat Rental Charter,  including Motor Yachts, Power Yachts, Sailing Yachts, Catamaran Charter Cayman, Megayachts, and Superyachts, that typically range from 40 feet and exceed 120 feet. Although the model, size, and style of each of our luxury yacht charter rental Cayman are different, you'll always get the same quality & professional service aboard your chartered vessel. For more information about the Yacht Charter Cayman that is available for charter, please browse our 'Luxury Yachts' Page.
Cayman Yacht Chartering With Us
From the first time you contact us to the time your yachting excursion ends, our only aim is to ensure that your charter vacation on our luxury Cayman Boat Rental Charter is full of lasting memories, fun, adventure, and entertainment! From a 4-hour Cayman Islands Yacht Charter to extended stay charters, just let us know what you would like to include into your vacation, and we will match your needs with the perfect yacht charter rental Cayman and crew guaranteed to exceed your expectations. Chartering your own Cayman Island Private Yacht Charter with Yachts Caymans is very simple, easy, and convenient. Once you provide us with your bucket list of requirements regarding charter service via email or phone, our experts will immediately contact you to give you all the information needed to make an informed charter selection.
Destinations and Events with Yacht Boat Charter Rental Cayman
One of the best parts of planning a yachting vacation is selecting your destination. The Cayman archipelago comprises of three islands – Grand Cayman, Cayman Brac, and Little Cayman – each has its own unique charm and attractions. Whether you want to enjoy a laid-back vacation on one of the pristine beaches of Cayman or looking for something more adventurous, our experts will match your desires and specific needs with the climate, amenities, cuisine, and places of interest of your best Cayman destination. All types of special events and occasions are welcome at Yachts Caymans. From the finest luxury yacht charter rental in Cayman to the specialized service, we offer the ideal setting for weddings, birthday parties, corporate events, bachelor/bachelorette party Cayman, sunset cruises, fun cruises, and the list goes on. Wine, dine and entertain on your very own Private Yacht Charter Cayman. You simply provide a wish list of events and places, and we help you create an itinerary for your own custom cruise. We have the best chefs & caterers, experienced event planners, professional photographers and world-class entertainers to help you create unforgettable memories of your trip. If you need some ideas or suggestions, give us a call, email or click on the Contacts link provided here because we love to help our clients plan a truly memorable Cayman excursion. Click on the links to find out more about our Destinations Locations and the different Occasions & Events.
Cost of Cayman Yacht Chartering
The cost of chartering any yacht depends on the type and size of the vessel and individual needs. Yacht Charter Cayman prices also vary according to season; peak season prices are often higher than off-season prices. Cayman Yacht Chartering cost varies with the length of the vessel as the crew requirement changes in proportion to the yacht length. Other things to consider when chartering a yacht are the number of guests who will be in attendance on the charter and the type of water sports activities you want to enjoy. Once you provide us with your specific requirements via email or phone, we will send you a personalized and detailed quote of your charter based on your needs and desires. To request more information on chartering your own Private Yacht Charter Cayman click the Contacts.
BOOKING YACHT CHARTER RENTAL CAYMAN
We are glad to offer you a huge selection of the world's finest Yacht Charter Rental Cayman at the best available prices in all charter locations and destinations of the Cayman Islands. From Mega Yachts with crewed charters, sailing boats, power yachts to luxury crewed Cayman Private Yacht Charter/Rental, we offer a wide range of yacht charter rental Cayman from top quality and experienced crew. Booking our boat charter rental Cayman services is simple and easy. You can send your queries related to the yacht of interest as well as other specifics, and we will provide you with the necessary information to make an informed decision.
Step 1: Choose your Yacht: Browse our fleet of Luxury Yacht boat charter rental Cayman to find the yacht charter that perfectly suits your vacation needs. You can consult our yacht charter rental Cayman experts for help with your charter yacht selection. You can also contact us to ask about charter availability, price fand the type of Cayman Island private yacht charter that meets your specific requirements.
Step 2: Provide A List of Your Requirements: Fill our preference sheet and customize your yacht charter rental Cayman itinerary.
Step 3: Get a Quote: Once the yacht boat charter rental Cayman requirements and dates are finalized, we will send you a detailed quote and Charter Contract.
Step 4: Book your charter: An initial deposit is made to get the yacht reserved for the chartered dates. The booking is complete once the initial deposit is made.
Step 5: Sail and Enjoy: Show up, sit back, relax and enjoy your vacation with a private yacht boat charter rental Cayman!
Your satisfaction is our pleasure. If you need to contact us for any reason concerning charter booking, simply fill out the Contact Form by clicking here and one of our team members will get back to you as soon as possible.
REACH US
Phone:
For U.S. and Canada : 702.401.4284
---
SUBSCRIBE TO OUR NEWSLETTER