The underwater world of Grand Cayman is truly captivating! The most visited island compared to its sister islands – Little Cayman and Cayman Brac – in the Cayman archipelago, Grand Cayman is a natural wonder with amazing options for snorkeling and swimming. Don a snorkel mask and immerse yourself in its exotic underwater landscape of coral reefs and colorful tropical fish. Be ready to be surprised by some of the amazing marine species that you will find in approximately 3-4 feet of water near the shore. From the famous Starfish Point Beach to Stingray City, check out which Grand Cayman destinations are perfect for swimming & snorkeling activities.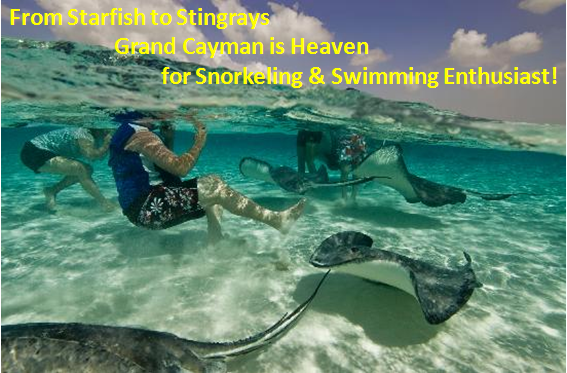 Stingray City Sandbar – The Experience of a Lifetime
A Stingray City snorkel trip in Grand Cayman will be the highlight of your charter vacation. It is a series of shallow sandbars located in the North Sound of Grand Cayman. The Southern Rays found in these shallow sandbars are the brightest rays in the Caribbean region and are very friendly. Guaranteed to be a unique experience while interacting and feeding a stingray at Stingray City.
• How to Get There: Take your private charter to the main channel that crosses the barrier reef to Caymans North Wall.
Eden Rock and Devil's Grotto - Impressive and Magical Spectacle
One of the world's best shallow reefs – Eden Rock and Devil's Grotto – are ideal for snorkeling. In the summer months these caves are filled with millions of tiny silversides, providing a beautiful underwater spectacle. You will find a myriad of fascinating coral formations in just 10 to 30 feet of water and amazing tunnels & caves that are home to many colorful fish. You are sure to see a lot of sergeant majors, tarpons, and groupers here along with some interesting topography.
• How To Get There: As soon as you reach the North Terminal, walk along the water passing the Blue Iguana. You will find the sign - Club Paradise along this road after crossing Blue Iguana. This is the easy entry point to these reef sites.
Cheeseburger Reef - A Popular Spot For Snorkelers
Cheeseburger Reef has been named so due to the Burger King outlet located in this area. The Reef is spread out over 3 to 4 acres and the coral formations rise nearly 10 feet from the water surface. You will find some of the most vibrant colors in these coral reefs. Large fish species, turtles, and reef sharks can be found here. An abundance of snapper, reef fish, and butterflyfish also cruise the water column at this reef site.
• How to Get There: From a small sandy patch on the north side of the Burger King building, swim about 20 yards off the shore. The exact reef site is marked by a pair of orange mooring buoys.
Starfish Point Beach – Swimming or Sun tanning, do both
Starfish Point is a breathtakingly beautiful location in Grand Cayman. It is a remote beach situated on the Northern coast of Grand Cayman boasting shallow, crystal clear waters. Starfish regularly frequent the shallow waters of this beach looking for food. Whether you're looking to swim with starfish, beachcombing or sunbathing on the powdery sand, this area would be considered the perfect location.
• How to Get There: Starfish Point is at the end of the Water Cay Road. Look for 'no trespassing' sign, and you will find starfish everywhere at Starfish Point.
Cemetery Beach - Top Snorkeling Spot in Seven Mile Beach
Cemetery Beach coral reef is located just north of Seven Mile Beach. It is named so because there is a cemetery in the area. The reef is colorful and numerous marine species including grunts, yellowtail snapper, black sea urchins, sergeant majors, and bermuda chub are found here.
How to Get There: Wade out from 7 Mile beach and swim out to sea for 5 to 10 minutes to reach the Cemetery reef.
The Grand Cayman is regarded as a world leading destination for snorkeling and unique swimming experiences with starfish & stingrays; mostly because of the crystal clear clarity, year round warm water temperature, and the island's proximity to pristine reef sites. So, don't be surprised if you forget about the time while swimming with starfish at Starfish Point in Grand Caymans or exploring the Cheeseburger Reef – Grand Cayman's captivating underwater world will make your vacation a memorable one.