Fishing is a year-round activity in the amazing Cayman Islands. It is has been dubbed as the "Unofficial National Sport of the Caymans." These Caribbean islands, which follow the motto: "He hath founded it upon the seas," consider fishing as their favorite national pastime. Avid fishermen and tourists alike consider Cayman Islands to be their fishing paradise as the waters surrounding these destinations are home to a variety of marine species such as marlin, tuna, wahoo, mahi mahi, grouper, and many more. For travelers, looking for a day or two of serious game fishing in Cayman islands during their yacht charter vacation, see the fishing guide below to best plan their itinerary.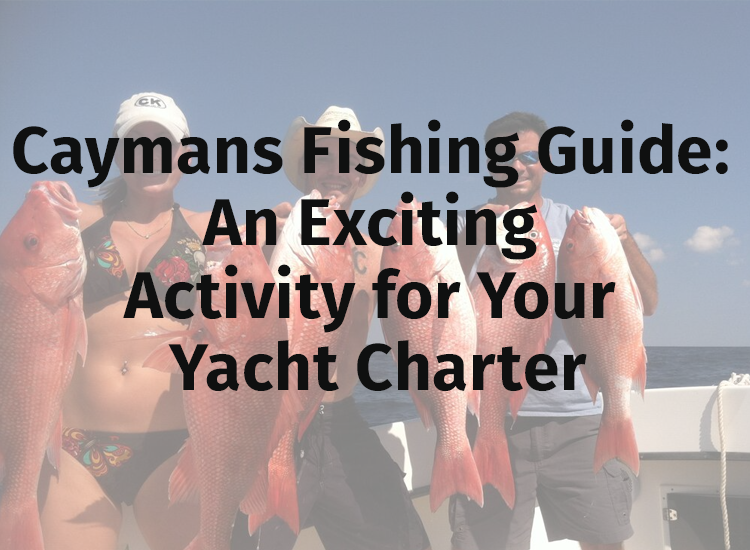 # Bottom Reef Fishing
Cayman is surrounded by hundreds of miles of reefs that start from 8 feet and reach a dramatic depth of 20,000 feet. Sports fishermen can expect to catch yellowtail, porgy, almaco jack, grouper, bar jack, and jack crevalle, snapper and many more during their reef fishing trips.
• Best places for reef fishing: North end of Seven Mile Beach and waters surrounding Eden Rock and Devil's Grotto in Grand Cayman
# Deep Sea Fishing
The adventure of deep sea fishing in Cayman is unparalleled because of the dramatic drop offs located close to shore where the sea is teeming with a variety of tropical fish species. You will be able to catch wahoo, tuna, mahi mahi, barracuda and blue marlin during your fishing excursion. Wahoo fishing season runs from November to March and tuna from March to June. Marlin and mahi mahi are plentiful throughout the year.
• Best places for deep sea fishing: Grand Cayman's North and West Walls
# Fly Fishing
The shallow bottoms and flats in the Caymans offer good fly fishing opportunities for anglers to test their bone fishing skills. The Cayman Islands offer a unique chance to take your boat to a flat, wade out and catch tailing bonefish. Although bonefish is found all around the Cayman waters, the Grand Cayman has the largest fish, averaging 3-4 pounds, and even as large as 6-8 pounds.
• Best Places for fly fishing and bone fishing: Prospect Point in Grand Cayman, Frank Sound, North Coast, Rum Point, Cayman Kai and southern coast of Little Cayman
# Shore Fishing
Shore fishing is a great way to spend your day while relaxing at the beach. Just grab a fishing pole, some bait, and head to the nearest beach where shore fishing is a popular activity. You don't require permits for shore fishing if you plan to catch and release, however, you will need to procure a fishing license if you're planning to cook some up. Popular fish species that can be caught near the shore include bonefish, tarpon, pompano, and barracuda.
• Best Places for shore fishing: Grand Cayman beaches
# Offshore Fishing
The third deepest trench in the world is the Cayman Trench. This pinnacle of an underwater trough is located close to Little Cayman, making it a perfect destination for offshore fishing. With water dropping to 3,000 feet just a mile offshore, you'll spend your charter fishing a number of tropical fish including blackfin, skipjack, wahoo, yellowfin tuna and deep water snapper.
• Best place for offshore fishing: The waters surrounding Little Cayman
The Cayman Islands have some of the best fishing grounds in the world. The crystal clear waters, amazing weather and best fishing spots make fishing activity the 'must-to-do' thing on your yacht charter vacation. From deep sea fishing, fly fishing to bone fishing, visiting anglers and adventure-seekers will have plenty of opportunities to catch amazing trophies on the three islands during their fishing charters Caymans excursions.