Though a popular destination for cruise ships, Cayman is more than just a pit stop on an island hopping Caribbean vacation. The 76-square-mile island will give you the feeling of a small town yet there's plenty to see and do. Often you would have heard about the postcard-worthy Seven Mile Beach, but Cayman also boasts eclectic markets for shopping, ancient sites for exploration, and unforgettable fantastic water sports. And even though exploring the many Caymans tourist destinations would be considered impossible in just 48 hours, our Yachts Caymans team will ensure that in a quick two-day itinerary you have an amazing time.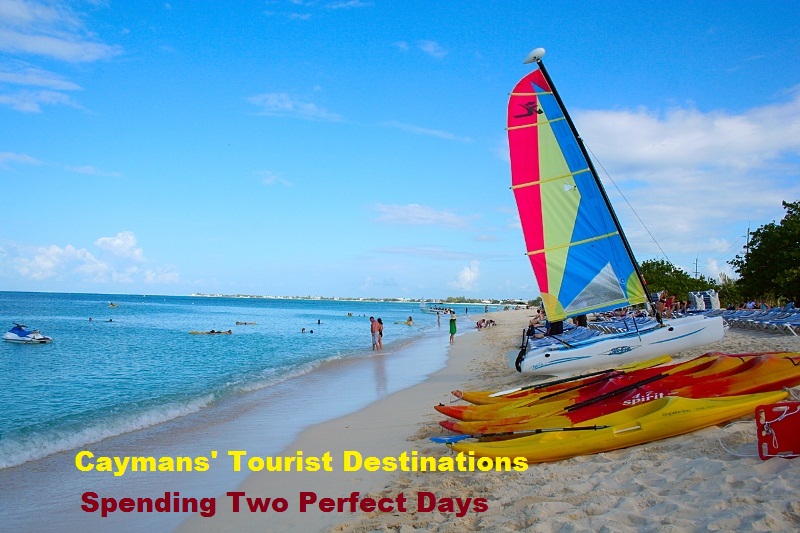 DAY ONE ITINERARY
One of the greatest things about visiting Grand Cayman is, while here, everything moves at a rather leisurely pace. Start your day out with a Mexican continental breakfast on board your own private yacht charter. Accompanied with breakfast, sip in a freshly squeezed fruit and vegetable juice or a delicious smoothie.
After you've had your healthy breakfast, your yacht will start its sail over the turquoise blue waters of the Caymans. A half-day boat adventure can be directed to one of many Grand Cayman's highlights, and why not start out at the well-known tourist hot spot, Stingray City. This sandbar in the middle of the North Sound is protected by a reef that creates a calm area in the ocean, filled with stingrays accustomed to swimming with tourists.
Stingray City – Take the opportunity to swim with the friendly stingrays of Grand Cayman; it is an unforgettable and very intense experience. Upon arrival on a sandbank at a meter deep crystal clear waters, suddenly you will be surrounded with huge lines of wingspans that you can watch, pet and or feed. Directly following, you can visit a coral reef where you can strap on some snorkeling gear and dive right in.
Stingray City is a must visit tourist destination in the Cayman Islands, but your captain will take you to several other places during your day trip: Rum Point for a Mudslide; Starfish Beach to check out the namesake creatures; and Coral Garden for some snorkeling.
Rum Point – A beautiful beach to discover and meet many foreigners and locals. Enjoy long walks with a wonderful view of the beach villas that will take your breath away. This tourist spot offers a relaxing place that you will very possibly never find and feel among other beaches that line this coast. The sea is wonderful and safe even at night. This beach could be considered a best kept secret, as it is very quiet despite the sensational scenery. Parasailing, kite surfing, paddle boarding and jet ski adventures are also offered here.
Later sit down for lunch, during which you will be served contemporary yet authentic Caribbean dishes along with a beverage of your choice. You can spend some extra time on the beach or head back to your yacht to take rest in the comfort of your luxurious room for some downtime or better yet on one of the available loungers. Once you've gotten your rest and freshened up, it's time to take in the mesmerizing views of the sunset.
Sunset Cruise – The red and golden hues of the Grand Cayman sunset are a must to enjoy during your leisurely vacation. Enjoy complimentary hors d'oeuvres, thirst-quenching drinks, and fresh ocean air as you celebrate the end of another tropical day. The sun slowly descends below the turquoise waters of the Caribbean as you enjoy fresh, complimentary hors d'oeuvres and beverages from your private open bar on board your yacht. The sight of flocking birds and the occasional dolphin break the spell as the sun melts into the ocean. After you've said goodbye to another evening, enjoy a comforting dinner on board.
DAY TWO ITINERARY
After a busy first day, your second 24 hours are rather relaxing. Get your day started right with breakfast. With satisfied taste buds, it's time to be part of some adrenaline rushing adventures. If you are already certified then scuba dive or snorkel as the choice may be in one of the many popular or not so well known areas.
SNORKEL & SCUBA DIVE AT CORAL GARDENS – Snorkeling in Coral Gardens is considered one of the best activities to be part of in the Cayman Islands. The waters are protected by a large reef about one mile from shore. The White House Reef Snorkel Trail is probably one of the most frequently visited sights on this island by tourists. On your diving adventure, you will encounter many species of tropical and coral fish, humpback whales, sea turtles, octopus, crabs, huge lobsters, dolphins, stingrays, eels and manta rays. Whatever your preference, the possibilities for adventure and pleasure are endless.
If you feel you've gotten enough for the day, undergo a relaxing treatment at a spa.
In less than two days, you've explored most of the Caymans' tourist destinations and what they have in store to offer its travelers, and why not conclude the day with a rewarding dinner prepared by your professional chef on board. The options are constantly changing, and so get your request in early. At the conclusion of your wonderful meal, head back to the state room and take a peaceful sleep before you board tomorrows flight.