Cayman Islands have some very famous and beautiful beaches: Seven Mile Beach, Stingray City, and Rum Point – contain sugar-white sand; glassy turquoise waters; a string of hotels, restaurants and bars; and a lively vibe. But the Caymans are also full of beautiful lesser-known beaches that are less frequented by visitors, or simply off the beaten path. They are called the "secret beaches" of the Cayman Islands and are perfect for couples on a romantic yacht charter vacation. Here is a list of 6 such beaches worth visiting during your romantic vacation in Caymans.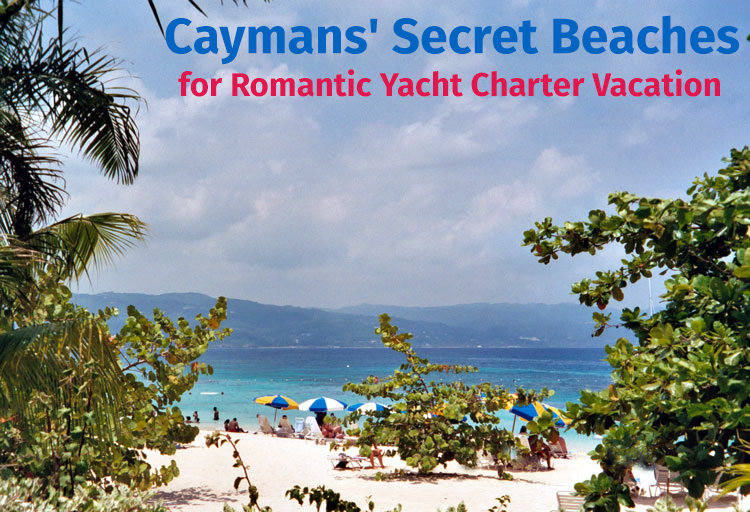 #Smith Barcadere – Hidden Gem of South Sound
This magnificent place has twin beaches both with a laidback vibe. This relaxing spot on South Sound, located outside George Town, has tiny twin beaches, warm silky waters, great snorkeling & phenomenal swimming opportunities, and absolutely no "crowd." These twin sandy white beaches are surrounded by turquoise waters protected by limestone formations and coral. Take advantage of all the great photo options and enjoy the romantic time with your partner in the ultimate seclusion.
#Cayman Kai - Calm, Secluded And Typically Empty
It is a quiet 400-acres of beach area located on Grand Cayman's northwestern peninsula, offering many of the same amenities and recreational opportunities as Seven Mile Beach but without the big crowds. Blessed with palm trees, six miles of beaches and white coral sand, Cayman Kai offers great opportunities for swimming, sunbathing, snorkeling, beach volleyball, sailing, and more. Visitors can also enjoy the beauty of its lagoon, exotic conch, and the scenic endowments of Cayman Kai.
#Owen Island – Secluded Beach for True Rest and Relaxation
For a true taste of Cayman, visit the Owen Island, a small islet located just off the south-western coast of Little Cayman. You can only reach this island by private yacht and cruising across the waters of Bloody Bay. If you love the idea of a Caribbean island getaway to a secluded beach for the ultimate in romance, rest, and relaxation, Owen Island is the beach destination for you. It's also a great island to enjoy swimming and picnicking. Owen island doesn't have any hotel buildings, homes, and or human habitation; most people who come to this secluded spot love the tranquility that surrounds this amazing beach.
#Boatswain's Beach – Providing the Right Balance of Relaxation & Exploration
Located on the northwest coast of Grand Cayman Island, Boatswain's Beach offers the right balance of pure relaxation in the secluded part of beach and exploration of natural wonders. It boasts a government ran marine park and turtle farm where visitors can learn about island marine life and conservation as well as encounter such animals as turtles, sharks, and exotic birds. The beach also exhibits a breeding ground for turtles, a few lagoons where you can swim with marine species, a turtle tank, and an iguana exhibit.
#Sea Feather Bay Beach – Pristine and Quiet
Sea Feather Bay Beach is a beautiful beach located on the southern shore of Cayman Brac. It's a lovely, thin stretch of shoreline leading to warm Caribbean waters. People who admire isolated beach locales are sure to enjoy this spot. This beach has fine, soft sand and blue waters perfect for relaxation and swimming. Sea Feather beach is near Christopher Columbus Gardens and Cayman Brac Museum which offer a rare insight into Caribbean life and a new way to experience the Cayman Islands' culture.

#Sandy Point – A Great Beach for Privacy and Seclusion
Situated on the eastern coast of Little Cayman, Sandy Point's waters are excellent for snorkeling and swimming. The beach has a wide expanse of soft sand for sunbathing. The powdery white sand of the beach beckons beach lovers to enjoy the perfect beach day. This astoundingly beautiful and quiet beach is perfect for basking in the sun while staying cool. You can also go for diving along Bloody Bay Wall. The nearby attractions such as Little Cayman Museum and Mule Enclosures are a great way to end the perfect beach day.
The Cayman islands are famous for their year-round tropical climate, tranquil & secluded beaches offering complete exclusivity; so it comes as no surprise that a romantic yacht charters Caymans vacation can be easily experienced all over these islands which are brimming with love and inspire romance. Couples on a romantic getaway or honeymoon can escape the crowds and find themselves in awe of the glistening waters and the stillness surrounding them in these deserted beaches. So, if you're planning your next romantic vacation and crave sand & sea but not crowds, try one or all of these lesser-known destinations for a quiet, gorgeous beach escape.
Have any secret beaches of your own? Let us know in the comments section