A class reunion is a great time to reunite and reconnect with your old classmates, relive old memories and enjoy a night or few days of ultimate fun & relaxation. Reunion parties need to be exciting filled with loads of entertainment, amusement and thrilling activities. Nothing could be better than yacht party in Caymans with your college gang or high school friends. Cayman Islands are an ultimate party destination as they boast vibrant nightlife, pristine beaches with live music & entertainment, food & wine events, and enthralling activities to enjoy. So, cherish the long-lasting friendship and live through old days spent with your best buddies with these fun activities in the Cayman Islands.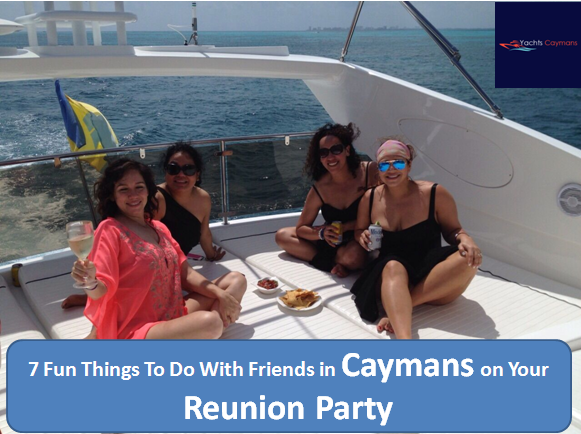 1. Celebrate the Full Moon at Calico's Jack

Calico's Jack is a lively beach bar on Seven Mile Beach in George Town. Every month the bar hosts a full moon party, complete with music, amazing food & beverages and bonfires. They also host theme parties, and occasionally, guest DJ's bring funky beats to make visitors dance their heart out.
2. View Sunset With Adventurous Segway Ride

Enjoy beautiful sunset with your buddies on a scenic yet adventurous Segway ride. Marvel at a lovely sunset over the Caribbean Sea and explore the crystal clear waters and white sandy beaches of Caymans in a new way – riding your own Segway over the powdery sands.
3. Enjoy the Cayman Submarine Expedition

Cayman Islands are world renowned for their incredible scuba diving and snorkeling. It has nearly 365 diving sites, from wreck site, deep dive locations, wall dives and more. If you or one of your group members is not comfortable with diving and snorkeling, you can go for submarine expedition – a captivating experience and unique way to explore coral canyons & colorful tropical fish in full comfort. Experience the thrill of journeying beneath the sea on a spectacular submarine tour.
4. Swim With Stingrays In Stingray City
Stingray City is Cayman's top attraction, and a must-visit destination on your reunion party in Cayman! Take your chartered boat to Stingray City from Seven Mile Beach to swim with whole fleet of stingrays that congregate near the shore. Stand in only three feet of water, swim and feed the friendly stingrays for a fun experience.
5. Party at Pedro
Pedro Castle is a majestic and historic location where the most impressive parties, weddings and functions take place. Host your reunion party at Pedro St. James that has a magnificent natural tropical park with magnificent native trees and plants. Pedro also has multimedia presentation facility, so you can show old videos and pictures in the form of slide show for making your reunion party a memorable experience.
6. Taste Wine Dinners
A wine dinner is a fun and unique way to learn about wonderfully chosen wine pairings while enjoying a full course gourmet meal. These types of wine dinner events are organized by beach restaurants on an ad hoc basis. You can attend such food & wine event to taste superb wines and amazing food while gossiping about old days with your friends. If you wish you can organize your reunion party around Cayman Food and Wine Festival held in the end of January month every year. This Cayman festival will refresh your good old memories about college parties and annual functions that you used to enjoy with your besties.
7. Shop 'til You Drop
Take your girl gang to boutiques, shopping plazas and specialty stores for an exciting shopping experience. From local art delights, Swiss watches, chic European fashionable dresses to rum cakes, enjoy duty-free shopping once you're done with all the above exciting activities with your friends.
When partying with friends you will never be short of fun and unique things to do in Caymans. From world-class scuba diving sites such as Bloody Bay Wall, beautiful beaches for relaxation, amazing fishing locations, shimmering water teeming with exotic wildlife – if fun and adventure is what you're looking for during your reunion party yacht Caymans trip, these are just some of the activities that you must do for an unforgettable experience. Take your pals to the Cayman Islands and try out these fun activities on your next reunion – everyone will love it for sure!